Understanding our Current State of Health
Help strengthen our Call to Action - Join the Force for Health® Community
We believe EVERYBODY 
can be a Force For Health…
But we also understand that not everybody has the same type of access, tools and resources to make the healthy choice the easy choice.
Our population health status was in poor shape before COVID, highlighting these inequities even further.  
Understanding our Current State of Health
The world has stopped moving... literally.
It is estimated that the we are moving 38% less than we were just 15 years ago, which is expected to increase to 50% by 2030.
38% of Americans live with a preventable disease.
This "preventable status" accounts for 80% of the healthcare costs for families, employers and healthcare providers.  
Mental health is main concern for 70% of teens today
This represents a 30% increase in the last 10 years.  Teens are feeling disconnected and not engaged, which is damaging for both themselves and their communities in which they need to thrive.
The color of skin shouldn't matter...but it does
Minority health disparities are real. Individual responsibility accounts for only 36% of the community health issue.  This is why LEADERS MUST address barriers in their own communities first.
COVID 19 hit minorities 2x-3x harder
According to the CDC, the hospitalization rate were 3x higher for African Americans and Hispanics and death rates were 2x higher than white Americans, and the economic impacts will be felt long after COVID 19 is gone
Now Recruiting Global 360 Force for Health® Ambassadors to the 2022 Reality Health Games...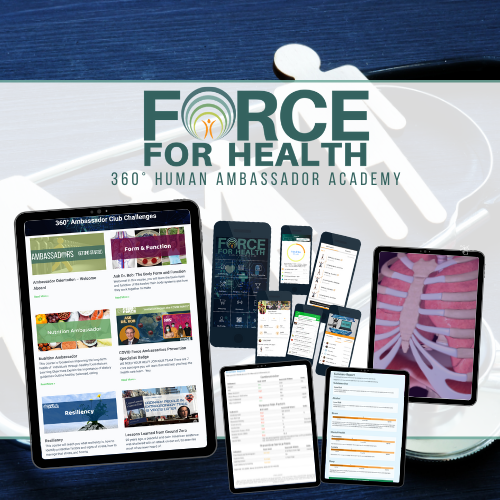 If you are ready to step up to the challenge and become a 360° Human Ambassador, you've come to the right place!
Take care of yourself first, so you can better serve others. 
360° Ambassadors receive our full line up of premium tools to assess and support your own health, and hopefully, you will use the knowledge to help others around you to do the same.
360° Human Ambassadors Club includes 12 Month Access to:
360° Human Explorers Club

Personalized Health Risk Assessment
My Heathy Self Mental Check Up Tool
Virtual Wellness & Nutrition Club
Access to Premium Challenges, Support and Rewards
360° Human Experience

How well do you know your 360° Human Self?
If you are really ready to take your health literacy rate to then next level, then we invite you to join our 360° Human Explorer Experience, with an annual subscription that includes unlimited access to 16 journey challenges by systems and over 900+ pages and topics to explore with interactive 360° tools to support a real inner tour of the body. Special badges, awards and certificates of completion are included when completing human system exploration LEARN It! Challenges.
Our 360° Human Ambassadors Club includes 12 month unlimited access to over 1,000 interactive models to explore and become  better force for health…for your self and others.
Take your Personalized Health Risk Assessment
Activate your Virtual Wellness & Nutritional Club
Weekly Support Webinars
360° Ambassador's Academy
Ready to meet your 360° Human Up Close and Earn a 360• Explorer Champ Badge?
Are you ready to be a 360 Human Explorer CHAMP?  Take a tour through each systems, and explore each model for at least 1 minute to earn 10 points towards your totals
All 360° Explorer CHAMPS will earn 1000 Bonus Points, and an exclusive VIP Pack, with a t-shirt, and certificate.]
The 360• Explorers Club is included in the Ambassador level membership
My 360• Human Explorer Badge Tracker