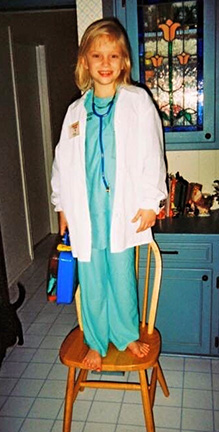 VA doctor knew her career when she was seven
Today, March 30, is National Doctors Day, an annual observance aimed at appreciating physicians who help save lives everywhere. Meet Dr. Averi White, third-year Internal Medicine resident and chief of Quality Improvement & Patient Safety. Dr. White has always had a passion for science, which has refined her dedication to caring for Veterans at Audie L. Murphy VA in San Antonio.
At the age of seven, White knew she wanted to be a doctor, all thanks to the simple task of choosing a job for Career Day. And with pictures to prove it, she never wavered from that decision.
"Growing up, I was very curious about science and the human body. My parents always told me I could be anything I wanted as long as I worked hard in school," she shared. "When I was 10 years old, my interest in medicine solidified after my youngest brother, Alex, was born with Down syndrome. Alex taught me that medicine is about more than science. He inspires me to advocate for my patients and has been my biggest supporter."
Found something special and unique
As medical students rotate through various specialties during their third year of medical school, Dr. White knew she found something special and unique during her internal medicine rotation.
"During my internal medicine rotation, I found myself thinking about my patients even after I went home for the night," she shared. "They were the patients who inspired and impacted me the most, which is why I ultimately chose internal medicine."
White also enjoyed the opportunity to think through various pathologies and consider different diagnoses at her own speed during her internal medicine rotation.
"My patients are the most fulfilling thing about my job by far. More specifically, I value the time I get to spend with the Veterans on my patient panel in Internal Medicine Clinic."
An honor to walk alongside Veterans
While seeing numerous patients over the years, many Veterans from this clinic have been her patients for the last three years, and she considers it an honor to walk alongside them through the ups and downs of life.
"Remember that your words to a patient have the potential to color their entire illness experience," she said. "Be kind and remember the power of your words in every circumstance."
Interesting fact about White: During medical school, she spent three summers doing medical mission work in Uganda and hopes to return in 2024.
South Texas VA thanks all those who continue to dedicate so much of themselves to caring for our nation's heroes.
Recommend

0

recommendations
Published in Force for Health® Network News, My Healthy Veteran