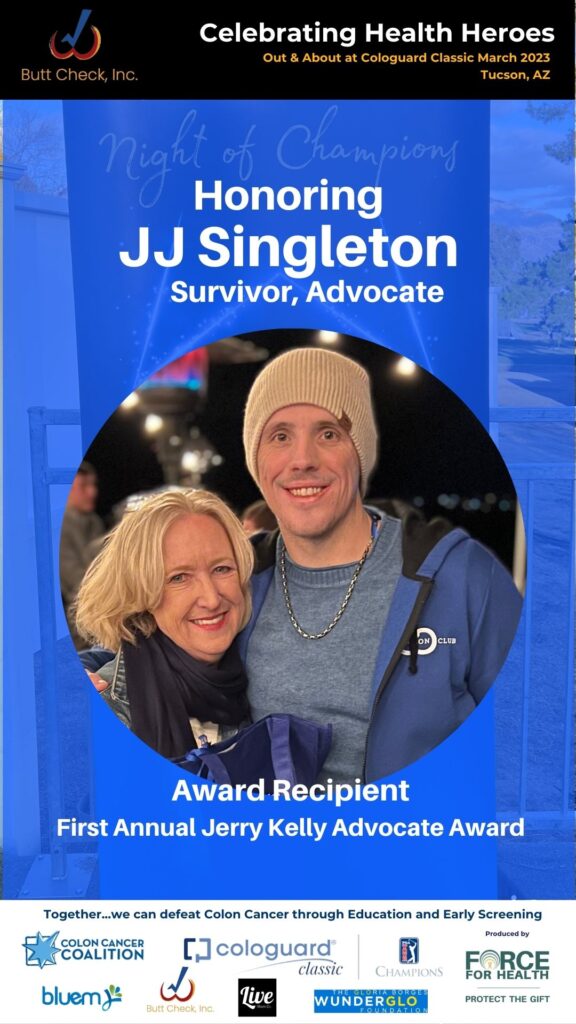 The Force for Health Teams up with Butt Check for Special Interview with JJ Singleton at the 2023 #Cologuard Classic
"I spent many years before I became an advocate thinking my voice didn't matter and I was alone, and the mental health part of cancer about killed me before the cancer did. Luckily, I survived that with the help of therapists, but whatever you're feeling and going through, somebody else is feeling something similar. Reach out, and together we can cure this one day." – JJ Singleton, Survivor, Advocate and Jerry Kelly Award recipient
Tell Us about Yourself
My name is JJ Singleton. I was diagnosed with colorectal cancer at the age of 27 in 2015. I'm still fighting it today, and I'm out here to advocate in the hope of finding a cure and making the next generation not have to deal with what I've dealt with.
Where are you from? First time to Tucson?
I'm from a small town about 20 minutes west of Asheville, North Carolina called Canton, and I was here in Tucson last year for the first time doing the Cold Guard Classic. But, I'm super glad to be back. I love this area; it's totally different from anything I'm used to in the Appalachian Mountains. I'm glad to be back.
You won an award tonight…tell us about it.
Uh, yeah, I'm still blown away, and I'm not good at accepting awards like that, but I'm so honored. The Jerry Kelly Award is for an advocate that just goes above and beyond across all the organizations, and I just want to tell my story and I'm raw with it. I don't practice. I don't try to make things perfect. And I want to show the real side of cancer and the mental health, the physical health, and everything that I've went through over the last eight years, and I think people recognize that.
How did you find out?
Again, I was 27 when I was diagnosed, and I was the typical Southern Man who experienced symptoms for months and did not have health insurance and not have a doctor and was like, "it's just a pulled muscle. It's an ulcer", until I was turning gray and my mom, who is the strongest woman in the world, made me go to the doctor, and at that time, you could see the tumor through my skin. They took eighty percent of my colon, and within a week, I was in surgery within a month. I was starting chemo and then went through that while I went through the surgeries and then went through the treatments, and it was a very long year.
I was cancer-free and six weeks after my last chemo, it came back spread throughout my body to my abdominal wall and it has been a battle ever since. Over the last eight years, I have been on chemo for over six years straight. It's just been one thing after another, but I want to let people know that there is hope and to never give up. And I want to be a voice for the voiceless and help people in any way I can. I'm weird enough and I had enough mutations to where it's incurable, and I've been on chemo ever since.
Wow…what is your life message you'd like to share?
My life message is that life's tough… and there's gonna be things that happen, but do not think you're alone. I spent many years before I became an advocate thinking my voice didn't matter and I was alone, and the mental health part of cancer about killed me before the cancer did.
Luckily, I survived that with the help of therapists, but whatever you're feeling and going through, somebody else is feeling something similar. Reach out, and together we can cure this one day.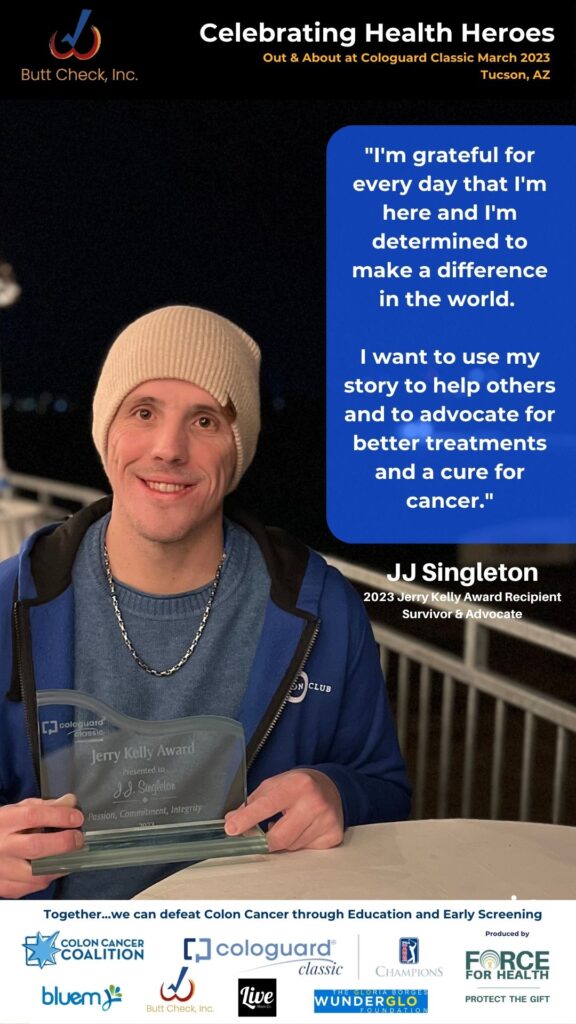 Are you ready to be a Force for Health, protect your gift and earn your #ColonCancerAwareness Basics Badge?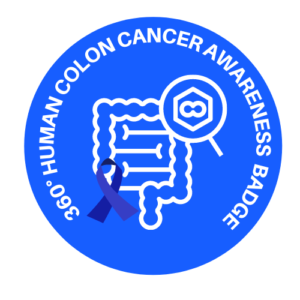 500 Points
Recommend0 recommendationsPublished in
Recommend

0

recommendations
Published in Force for Health Partners, Force for Health® Network News