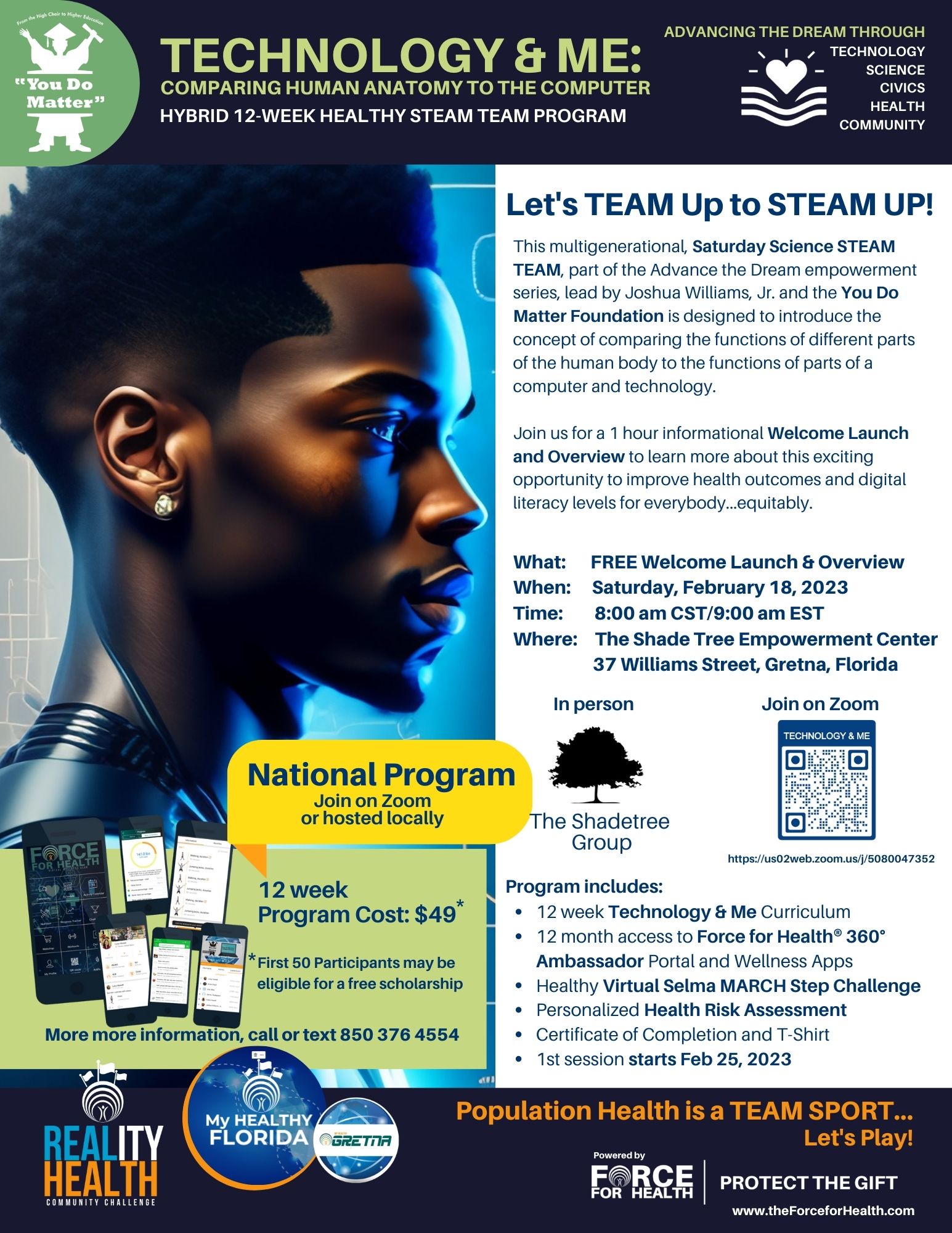 You DO Matter Foundation presents Technology and Me: Welcome Launch and Overview Hybrid Event
You Do Matter Foundation, lead by Joshua Williams, Jr. and powered by the Force for Health Network, is launching a new Saturday Science STEAM TEAM with an exciting program called Technology and ME.  This is a 12 week program designed to introduce multigenerational participants to the concept of comparing the human body systems to computer and technology systems , where participants can attend at locally hosted venues or on-line virtually via zoom which will be hosted at the You Do Matter STEAM TEAM Virtual Classroom at the Force for Health® 360° Academy. 
Join us for a 1 hour informational Welcome Launch and Overview to learn more about this exciting opportunity, the tools and apps we will have access to, and how programs like this can really help improve health outcomes and digital literacy levels for everybody…equitably.
Registration is not required, but ALL registered participants will be eligible for a prize drawing at the end of the meeting for a FREE program scholarship.
If you would like to be eligible to win, please use the Registration button to the right or book a free ticker below.
You can also download this event to your calendars with the button options below.
Join us via zoom here at this link or by clicking on the image below.
This is part of the Advance the Dream empowerment and leadership series co-produced by You Do Matter Foundation and the Force for Health® Network, who donates 5% of net proceeds to the MLK Memorial Foundation to help support the legacy of Rev. Martin Luther King, Jr.
Event Attendees
No attendee found! Be the first one to book!
Next Event
Date

Jun 01 - 08 2023

Time

12:00 pm - 12:00 pm