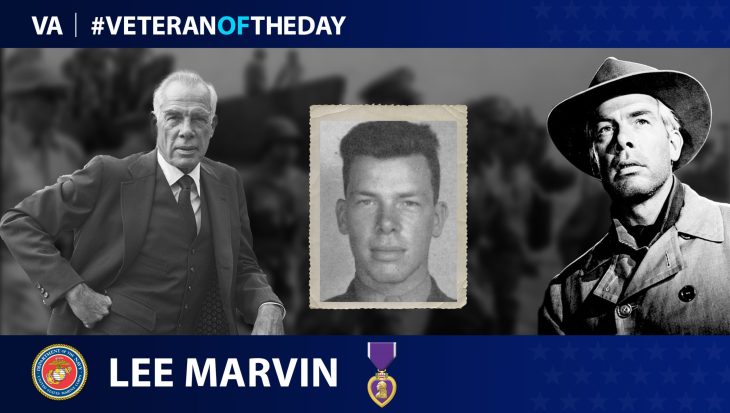 #VeteranOfTheDay Marine Corps Veteran Lee Marvin
Lee Marvin upheld a tough-guy persona on and off the screen—from the Pacific Theater to Hollywood. Born in February 1924 in New York, Marvin's parents, Lamont and Courtenay, struggled to control the rebellious young man. He was kicked out of multiple boarding schools, once for throwing a roommate from a second-floor window. Ending up at St. Leo's College Prep School in Florida, Marvin dropped out in 1942 before returning to graduate so he could join the Marine Corps.
Although his father disapproved of him joining the service, Marvin served as a scout sniper in the 4th Marine Division in the Pacific Theater during World War II. He served in the assaults on Eniwetok and Saipan-Tinian, and participated in 21 Japanese Island landings while serving as a member of the "I" Company, 3rd Battalion, 24th Marines, 4th Marine Division. Most of his division was wiped out and he was wounded in action during the Battle of Saipan on Mount Tapochau. He sustained an injury below the spine that severed his sciatic nerve as well as a foot injury. These wounds resulted in 13 months in naval hospitals, rendering him invalid for further service. He received a Purple Heart and was medically discharged with the rank of private first class.
Following his discharge in July 1945, Marvin worked as a plumber's assistant at an upstate New York community theater. After occasionally filling in for sick actors during rehearsals, he discovered a love for acting and proceeded to study at the American Theatre Wing while using the G.I. Bill. He appeared in off-Broadway shows until moving to Hollywood in 1950 and making his film debut in "Teresa." He proceeded to pursue tough-guy roles in movies such as "The Dirty Dozen," "The Man Who Shot Liberty Valance" and "Sergeant Ryker." Marvin eventually won an Oscar for his roles as both a drunken gunfighter and his evil twin brother in the western comedy "Cat Ballou" in 1965.
Marvin's acting earned him an Academy Award, while his military service earned him a Purple Heart Medal, a Navy Presidential Unit Citation, an American Campaign Medal, an Asiatic-Pacific Campaign Medal, a World War II Victory Medal and a Combat Action Ribbon. Later, after experiencing abdominal pain, he suffered a fatal heart attack on Aug. 29, 1987. He was 63, and was interred in the Arlington National Cemetery.
We honor his service.
---
Do you want to light up the face of a special Veteran? Have you been wondering how to tell your Veteran they are special to you? You're in luck! VA's #VeteranOfTheDay social media feature is an opportunity to highlight your Veteran and his/her service.
It's easy to nominate a Veteran. All it takes is an email to newmedia@va.gov with as much information as you can put together, along with some good photos. Visit our blog post about nominating to learn how to create the best submission.
---
Writer: Mary Margaret Brennan
Editors: Ashley Shaut, Marisa Bunton
Graphic Designer: Saul Leon
Recommend

0

recommendations
Published in Force for Health® Network News, My Healthy Veteran