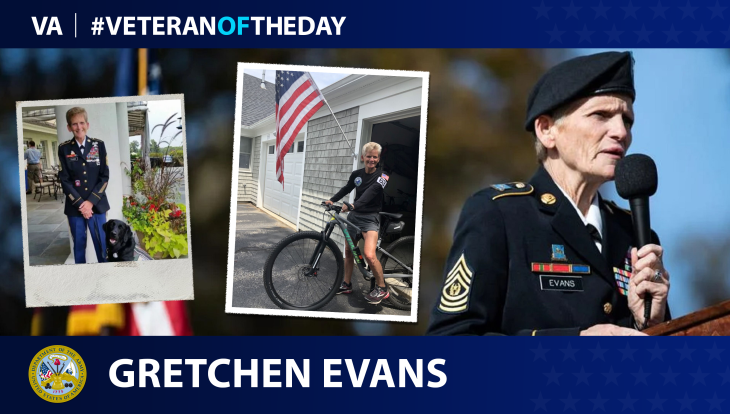 #VeteranOfTheDay Army Veteran Gretchen Evans
Command Sgt. Maj., Gretchen Evans served worldwide in her deployments with the U.S. Army. Evans grew up in Abilene, Texas, and enlisted in the Army in September 1979 when she was 19. She had hopes of gaining new skills and to learn how to support herself independently. She fell in love with the military's sense of mission, structure and camaraderie.
After completing basic training, Evans would serve in Italy, Central America and the Middle East as a counterintelligence soldier conducting counterterrorism operations. In 2004, she was promoted to Command Sgt. Maj. and served next to Lt. Gen. Karl Eikenberry in her final deployment to Afghanistan. In this role, she managed the safety and security of all the military security, personnel and 30,000 ground troops across the U.S. military bases in Afghanistan.
In 2006, her career was cut short when a mortar round's detonation left her with severe brain injuries and completely deaf. She was honorably discharged from the military and began recovery at home, where she channeled her grief into running, hiking and writing a compilation of other Veterans' stories and experiences she titled, "Leading from the Front." The success of this book inspired her to become a motivational speaker for Veterans and large organizations. She and her hearing service dog, Aura, have toured the country inspiring others for almost 17 years.
Throughout her work, she has also continued her love of running and adventure pairing with other Veterans and civilians with disabilities to form Team Unbroken. She trained this team and led them to compete in World's Toughest Race: Eco Challenge Fiji, hosted by Bear Grylls which premiered on Amazon Prime. Her group was the first team of individuals with disabilities to ever compete in and complete the race. Evans continued to train the team with goals of participating in more marathons, cycling challenges and even two "Ironman" triathlons.
Evans has served on the board and an ambassador for many organizations seeking to provide accessibility and resources for Veterans. She has been a board member with America's VetDogs. More recently, she has served as an ambassador for No Barriers and the Wounded Warrior Project. She is a spokesperson for the Dogtopia Foundation, which seeks to supply service dogs for Veterans, and youth literacy programs and employment initiatives for adults with autism. Throughout her advocacy work, she has run over 30 marathons by herself donating all proceeds to organizations that aid Veterans.
Now, after moving 27 times, receiving 27 awards and decorations as well as 27 years of active-duty service, Evans has settled in Maine with her husband, Navy Captain and Chaplain Robert Evans. In 2022, she was presented with the ESPY's Pat Tillman Award along with induction into the Veteran's Hall of Fame and the U.S. Army Women Veteran Hall of Fame.
We honor her service.
---
Do you want to light up the face of a special Veteran? Have you been wondering how to tell your Veteran they are special to you? You're in luck! VA's #VeteranOfTheDay social media feature is an opportunity to highlight your Veteran and his/her service.
It's easy to nominate a Veteran. All it takes is an email to newmedia@va.gov with as much information as you can put together, along with some good photos. Visit our blog post about nominating to learn how to create the best submission.
---
Writer: Sarah McDonald
Editors: Marisa Bunton, Ashley Shaut
Researcher: Raphael Romea
Graphic Designer: Jaylon Buckles
Recommend

0

recommendations
Published in Force for Health® Network News, My Healthy Veteran