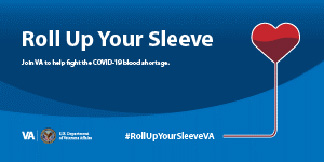 VA named America's Blood Centers' National Partner of the Year
America's Blood Centers (ABC) is the national organization operating over 600 blood collection sites and providing more than 60 percent of our country's blood supply. They have selected VA as its 2022 National Partner of the Year for the agency's commitment to maintaining the nation's blood supply.
In 2022, VA held 437 blood drives at facilities nationwide and approximately 13,000 people donated blood through VA's campaign. VA partnered with both America's Blood Centers and the American Red Cross in coordinating its National "Roll Up Your Sleeve" Blood Drives. This initiative supports VA's "fourth mission" to back up our nation's health care systems in times of disaster.
"To be recognized by ABC as Partner of the Year is a great honor and was largely made possible by our VA employees and Veterans who donated blood across the nation," said VA Secretary Denis McDonough. "VA will always stand by our commitment to support our country's health care systems by helping meet the nation's need for blood."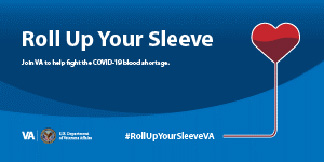 Health care in the U.S. has managed with a shortage of blood since the COVID pandemic began. This challenge was initially caused by a 20% decrease in blood drives due to larger space requirements and significantly fewer donors. The winter season can be a particularly daunting time for blood collection.
Blood donors are needed now
"Our partners at blood collection agencies came to us for support during the pandemic when our national blood supply was the lowest seen in years," said Dr. Jessica Wang-Rodriguez, executive director of VA Pathology and Laboratory Medicine. "We are committed to continuing our "Roll Up Your Sleeve" campaign this year and we encourage more people, particularly those from diverse ethnic backgrounds and younger people, to become blood donors."
Most healthy people can give blood and donating blood is safe and easy. You can give blood no matter your COVID vaccination status. You can't get COVID from a blood donation and you can't give COVID through a blood transfusion.
Please consider a blood donation
VA encourages the public to join this effort. Nothing can replace life-saving blood when delivering health care. One donation can save up to three lives. Please consider a blood donation. Contact your local VA medical facility and ask about the next blood drive or visit American Red Cross or America's Blood Centers.
We ask people donating blood at community collection sites to mention the VA National "Roll Up Your Sleeve" campaign so their donation can be counted into VA's ongoing program.
To amplify our efforts, use your social media to share your donation experience and encourage others to become donors.  Please use #RollUpYourSleeveVA in your posting. Thank you for being a life saver!
Recommend

0

recommendations
Published in Force for Health® Network News, My Healthy Veteran