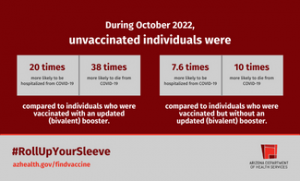 Safe and highly effective COVID-19 protection is available, so get boosted for the holidays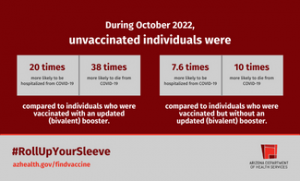 COVID-19 deaths remain well below what Arizona has seen during major surges, but the 71 deaths added in today's weekly dashboard update are a grim reminder that COVID-19 is still present and taking lives. 
I mention this to help highlight some very positive news also added to our dashboard: During October, Arizonans who had received the updated Omicron booster were 20 times less likely than unvaccinated individuals to be hospitalized from COVID-19 and 38 times less likely to die from COVID-19. Those who were vaccinated but hadn't gotten the updated booster were 7.6 times less likely to be hospitalized and 10 times less likely to die than unvaccinated individuals. 
This reinforces the importance of the updated COVID-19 booster for everyone 5 years and older, and especially for older individuals whose immune systems tend to have weakened with age. More than 80% of COVID-19 deaths during the past six months have been among those 65 and older, while more than 90% of COVID-19 deaths during that time have been among those 55 and older. Every age range has seen deaths, however, and everyone remains vulnerable to long COVID.
With holiday gatherings underway and holiday travel beginning soon, please take advantage of this safe and highly effective protection by getting the new booster at least two months after your last COVID-19 vaccine dose. If you have had COVID-19, you should still get this booster at least three months after your symptoms end. 
You can get the COVID-19 booster at the same time as your seasonal influenza vaccine, doubling the value of the visit. It's a great time to do this, as it takes at least two weeks to build antibody protection after vaccination. You'll find convenient providers of COVID-19 and influenza vaccine at vaccines.gov. 
Recommend

0

recommendations
Published in My Healthy Arizona