May is Healthy Vision Month!
The National Eye Institute (NEI) has theme for Healthy Vision Month: "Eye on Health Equity." This is important because people of color, like Latinos, face barriers to eye health care.
"NEI is putting a spotlight on the importance of increasing diversity in the eye health field — and how that can help everyone have an equal chance for healthy vision," according to the agency.
Here are six ways to promote health equity and healthy vision.
1. Share Testimonials from Diverse Eye Health Professionals
NEI spoke with professionals about how increasing diversity and representation can improve eye health outcomes and promote health equity.
Read their testimonials and share them with your network!
2. Meet the Organizations that Bring Healthy Vision Month to Life
Find organizations that are dedicated to promoting health equity and helping people protect their eye health.
Our team at Salud America! is proud to be one!
3. Spread the word about simple steps everyone can take to protect their vision
Check out NEI's sample social media messages and shareable graphics.
They are in English and Spanish.
4. Join NEI and the American Diabetes Association at 1:30 p.m. ET May 13, 2021, for a Twitter Q&A
You'll hear from Salud America! and leaders in the eye health and diabetes fields about the importance of protecting your eyes if you have diabetes.
The Q&A will also cover some of the unique barriers to care that many patients are experiencing right now.
5. Promote NEI's Healthy Vision Resources
Share these resources to help everyone learn how to protect their eye health.
For example, check out these seven vital eye health tips for glaucoma, which is more prevalent among Latinos. They also have many resources for kids.
"Together, we can work toward more equitable eye care — and help everyone learn how to protect their vision," according to NEI.
6. Download a 'Health Equity Report Card' for Your City!
You can address gaps in other areas of health equity, too.
Download a Health Equity Report Card from Salud America! at UT Health San Antonio.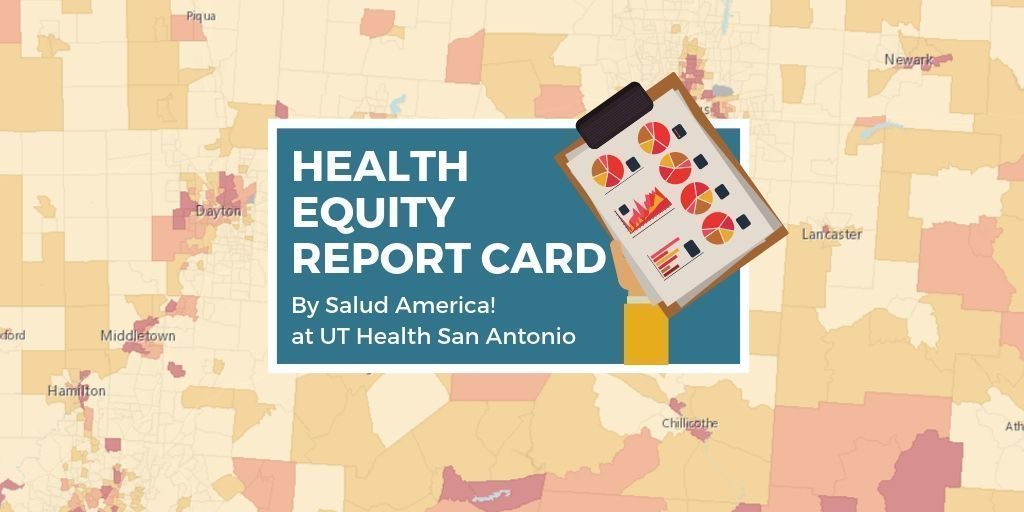 With the report card, you can see how many people face inequities in food access, education, income, health care, and more.
Then you can email your Health Equity Report Card to community leaders. You can also share on social, and build the case to address health equity issues in at-risk areas!
GET YOUR HEALTH EQUITY REPORT CARD!
The post Healthy Vision Month: Keeping an Eye on Health Equity for Latinos appeared first on Salud America.
Recommend

0

recommendations
Published in Fuerza por la Salud