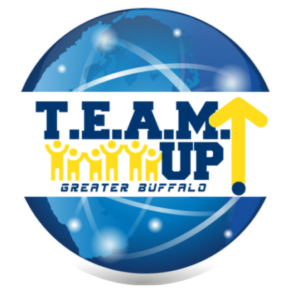 TEAM Up! Greater Buffalo
TEAM Up! Greater Buffalo is where business, education, healthcare and civic leaders connect and compete to ensure a healthier and happier community for every BODY.
We provide free and low cost resources to support local and national programs to facilitate healthier behaviors and better outcomes.
This group is open to individuals and organizations who care about improving the health, civics and science literacy rates in the Greater Buffalo region.
TEAM Up! Greater Buffalo is collaborative group powered by the Force for Health Network® community platform, originally seeded by HOPE Buffalo to improve referrals and community connections.
All of the group's collective MOVE-LEARN-EARN activities, steps and points will count towards the V.I.P. Community L.E.A.G.U.E.S., hosted by the Citizenship Health Institute (CHANGE), a 501c3 organization focused on empowering teens to address the social determinants of health issues that they care about the most.
ACTIVE TEAM play starts January 8, 2021.
Simply join this group for FREE to start earning points for yourself, your region and your state, as The Force for Health® Network celebrates and highlights collaborative, connected communities that care about improving health outcomes for every BODY, equally.
Quick Links to our Virtual Community Health Library:
https://theforceforhealth.com/virtual-health-library-for-team-up-greater-buffalo/