Gregory Aune was 16 when he was diagnosed with Hodgkin's Lymphoma.
Aune spent a year enduring grueling treatment, losing over 70 pounds.
But he survived. His experience motivated him to pursue a clinical career and help children with cancer.
Today, Dr. Aune is an associate professor of pediatric hematology and oncology at the Greehey Children's Cancer Research Institute (GCCRI) of UT Health San Antonio, on a mission to find new ways to help and heal patients.
That's why he helped found the Gear Up Against Kids Cancer Bike Ride — to raise awareness of childhood cancer and support the mission of the GCCRI.
The inaugural bike ride will take place at 8 a.m. CT on April 2, 2022, in Floresville, Texas, after having been postponed for two years due to COVID-19.
From Survivor to Cancer Researcher to Cancer Advocate
Aune is a three-decade survivor of Hodgkin's Lymphoma.
When he was diagnosed as a teenager, the disease devastated his body, if not his resolve.
"There weren't many days where I thought I was going to die," said Aune, according to the San Antonio Report. "The treatments were physically debilitating – but the idea was that I was going to get through it and everything would return to normal."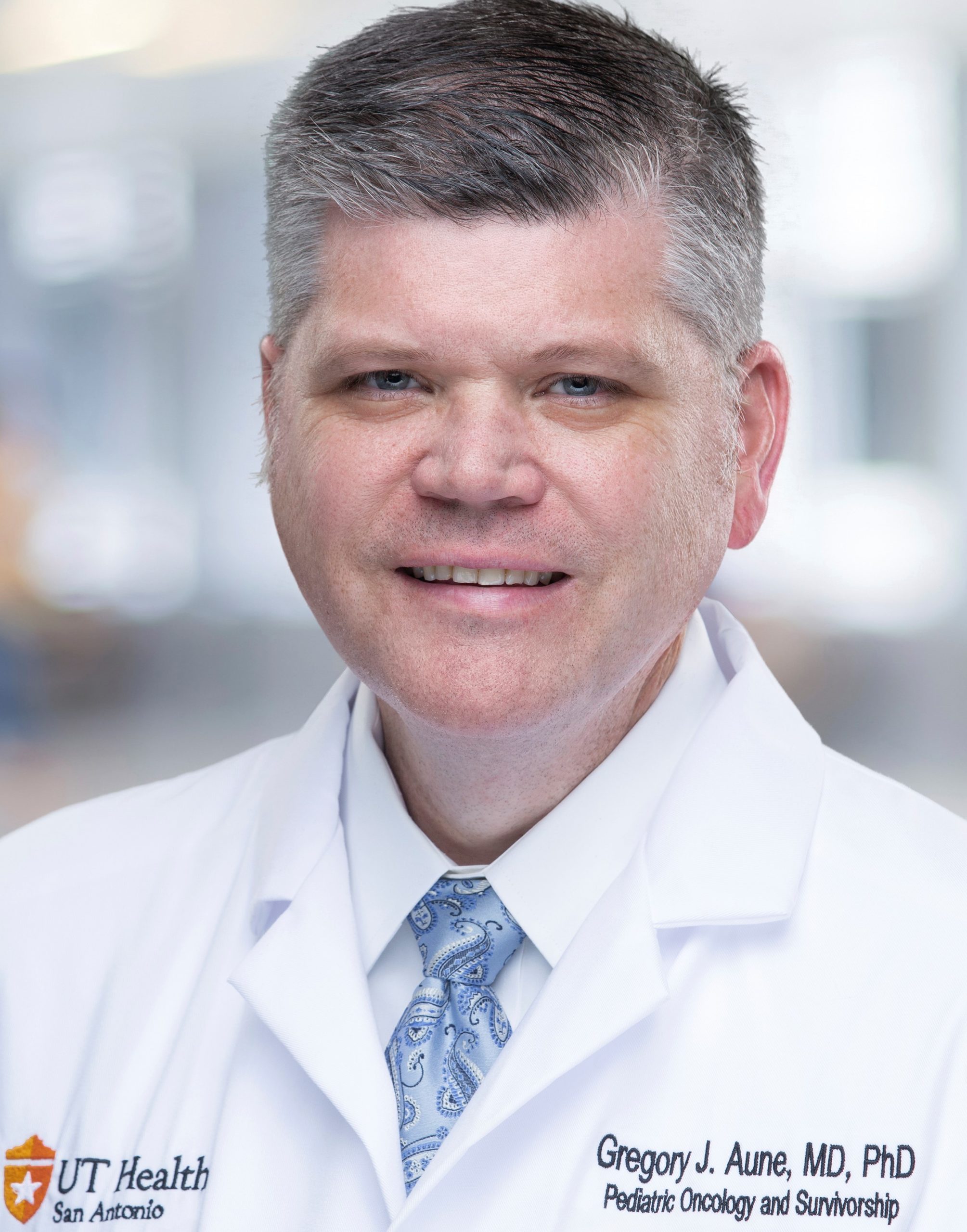 Aune spent a year in treatment, prescribed numerous chemotherapy and radiation treatments.
He eventually beat childhood cancer, but that wasn't the end of a difficult recovery.
"His experience as a long-term survivor included open-heart surgery at age 35 to replace his aortic valve and bypass three blocked coronary arteries that were damaged by his teenage cancer therapies," according to UT Health San Antonio.
The experience launched him into a career path studying ways to improve cancer treatments for children.
"I remember laying in bed thinking, 'There's got to be a better way to do this,'" said Aune, according to Science Magazine. "[Cancer was] presented to me as, 'Just get through the therapy, and this will be over and [you] go back to normal.'"
Now, Aune works to address the issues caused by early-life cancer, such as how medical treatment impacts aging.
"These treatments seem to accelerate the aging process," Aune told the Chicago Tribune. "If I had been born a lot earlier, I wouldn't have to worry about late effects because I wouldn't be here."
What's worse is the forms of medical treatment used in childhood cancer have not seen much progress in recent years, according to Aune.
"For every patient I saw [in one week], I used the same medications we have had for the last 30 years," Aune told the Chicago Tribune. "And they are very toxic."
Aune and his laboratory team work extensively to investigate tumor biology and experimental therapeutics.
"He has applied this existing knowledge to both the in vitro and in vivo studies of the cardiovascular system from the level of the cardiac fibroblast to global cardiac function. His laboratory has successfully developed a novel pediatric mouse model of anthracycline-induced cardiac toxicity," according to UT Health San Antonio.
But research and care isn't all Aune is doing to help children.
"Since 2010, he has spearheaded efforts by the St. Baldrick's Foundation and For the Kids Dance Marathon at the University of Texas San Antonio that have raised over $1 million for childhood cancer patients and research efforts," according to UT Health San Antonio.
Still, he wanted to do even more to help children.
Launching the Gear Up Against Kids Cancer Bike Ride
Leaders at the Greehey Children's Cancer Research Institute (GCCRI) wanted to host a public event to raise awareness of this childhood-stealing disease, and support GCCRI's mission to translate today's discoveries in childhood cancer into tomorrow's treatments.
With the rising popularity of cycling, a bike ride event made a lot of sense.
Aune and a planning team worked hard to organize the Gear Up Against Kids Cancer Bike Ride on May 16, 2020.
The COVID-19 pandemic forced its cancellation.
But the idea didn't stop there.
Aune and his planning team — Norman Mendez, GCCRI operations manager, David Rodriguez, GCCRI information technology specialist, Victor Aguilar, GCCRI executive assistant, and Brian Phillips, GCCRI marketing specialist — rescheduled the bike ride event for April 2, with the support of GCCRI then-interim director Dr. Manjeet Rao.

Riders can check in at 7 a.m. at the Floresville Event Center. The ride will kick off at 8 a.m. and end with a lunch from 11 a.m. to 1 p.m.
"We have designed two road courses that will take you from the Floresville Event Center and travel along many of the most scenic roads in Wilson County, Texas, with the beginner's route covering 28 miles, and the more advanced course covering 38 miles," according to the bike ride registration site.
Early bird registration lasts until March 18, where the registration price is $40. After that, the registration price is $50. If you registered for the 2020 race before the pandemic, your entry is still valid.
"Your participation or sponsorship makes a direct impact on pediatric cancer research and supports cutting-edge research programs that help train the next generation of research scientists and specialists," according to the bike ride registration site.
"Proceeds generated will be used to provide funding for innovative research projects that hold great promise but don't yet qualify for federal or more extensive funding. You are helping to keep the research funding for these potentially lifesaving projects geared up and moving!"
Addressing Latino Childhood Cancer Disparities
Aune's bike ride event is critical because 15,000 children are diagnosed with cancer each year.
Latino children are especially at risk.
Studies have shown that Latino children are up to 31-65% more likely to die of cancer.
This is due many reasons, largely stemming from systemic inequities like lack of access to healthcare, insurance, healthy food, safe places to play, and more.
There is a strong need for researchers, physicians, healthcare professionals, patient advocates, and students from across the nation to unite to create research advancements, change systems, and take action to address health inequities and their resulting cancer disparities.
The Future for Aune and the Gear Up Against Kids Cancer Bike Ride
Aune hopes that the Gear Up Against Kids Cancer Bike Ride will be an inaugural program now that it's finally able to launch this year.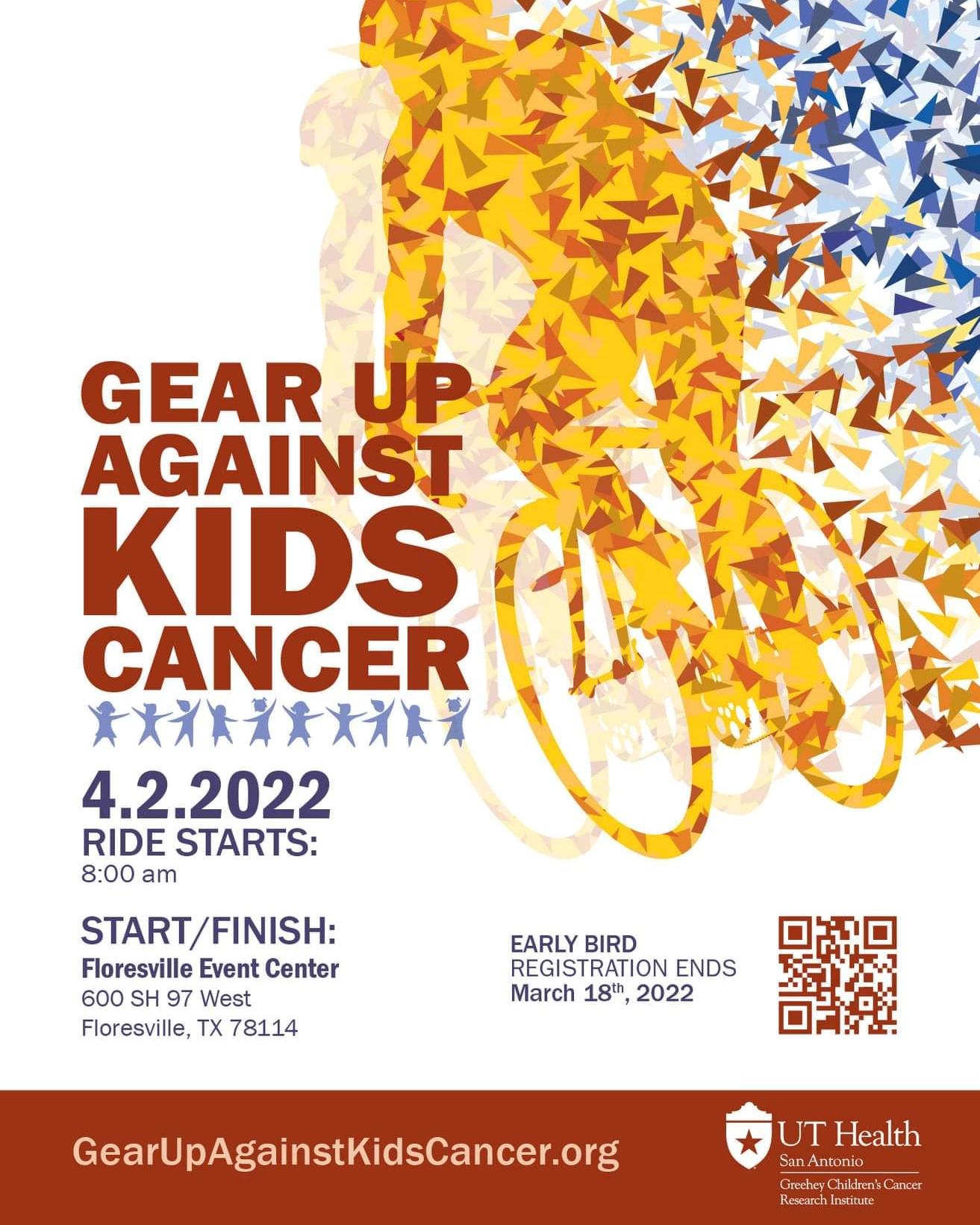 The ride will help raise money towards improving cancer treatments and prolonging cancer survivorship among children.
"We not only want our patients to be cured, we want them to thrive," said Aune, according to KENS5. "If you go back 70 to 80 years, long-term survival was about 10% so almost none of the children survived. If you fast forward now to the modern era, the 21st Century we have about 80% of our patients survive at least five years and many much, much longer than that."
Support the advancement of treatment for children's cancer by registering for the bike ride today!
The post Gregory Aune: The Gear Up Against Kids Cancer Bike Ride appeared first on Salud America.
Recommend

0

recommendations
Published in Fuerza por la Salud