Infection control keeps germs from spreading and making people sick.
Infection control actions are based on recognizing the risks for germs to spread. But what is that risk?
We know that germs are found in certain places, and need a way, or a pathway, to spread to other places and people. They also need the opportunity to spread.
That's where "risk" is, and where you can keep germs from spreading with infection control actions.
Identifying Risk
You, your patients, and the environment can be pathways for germs to spread.
Understanding how germs spread and where they live and thrive can help you understand "Standard Precautions," which are infection control actions you perform every day for all patients to keep germs from spreading.
For example, an important part of Standard Precautions is hand hygiene.
What Infection Control Actions Should I Use?
To determine the appropriate steps to take to keep germs from spreading, it helps to ask yourself, "What reservoirs are involved?"
You might ask yourself if a surface you're about to touch, or a device you're about to use, could have germs on it – the answer is probably "yes."
You might think about which areas of a patient's body you're going to interact with, and the germs that live there, or that could have been spread there from somewhere else.
For instance, if you're giving a patient an injection, you'll always clean your hands and disinfect their skin first.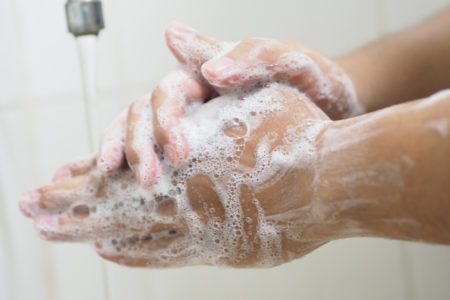 Why? The skin reservoir – yours and your patient's – has germs that can harm your patient if the germs get into their body.
When you identify the reservoirs, you can identify which germs could be there and how they could be spread.
Then, when you recognize the pathways for germs to be moved in and out of each reservoir, you can take steps to keep them from having the opportunity to spread.
You can also recognize when you're in a situation where germs are likely to spread or have already spread.
When you act based on your knowledge of reservoirs and the germs that live in them, you can make sure germs aren't spread from one reservoir to another, or to a patient or yourself.
Expect the Unexpected
However, you could start your task and realize there's an opportunity for germs to spread that you might not have expected, or that your usual steps and checklists don't cover.
For instance, you go to change a patient's bed linens, and you find that the patient is incontinent, and the linens have urine and feces on them.
When this happens, you can use your knowledge about reservoirs, and how germs can be spread, to identify the actions you need to take to keep it from happening.
What Can You Do to Promote Infection Control in Your Healthcare Setting?
It is important to protect yourself, patients, and colleagues from germs that can spread from reservoirs.
Remember to properly clean your hands and wear appropriate PPE, such as gloves and N95 respirators.
Access more information about infection prevention and control in healthcare by visiting resources from CDC Project Firstline.
Project Firstline creates resources, including videos and shareable images, web buttons, posters, and print materials. They also have facilitator toolkits to help workers lead trainings even if they are not an infection control expert.
Salud America! at UT Health San Antonio is working with the National Hispanic Medical Association to bring Project Firstline infection control educational content to healthcare workers, so they are equipped with the knowledge they need to protect themselves, their facilities, and their patients (Latinos and all communities) from infectious disease threats in healthcare settings.
You can read these articles:
"Healthcare teams in hospitals, nursing homes, and other care settings are the front lines against the spread of infection," said Dr. Amelie G. Ramirez, director of Salud America! at UT Health San Antonio. "CDC's Project Firstline is bolstering those efforts by developing evidence-based tools that can be delivered in a variety of ways to make infection control learning convenient and accessible for busy healthcare staff."
Learn More about Project Firstline!
 Editor's Note: This article is part of a collaboration between Salud America!, the National Hispanic Medical Association, and the CDC's Project Firstline. To find resources training materials, and other tools to bolster knowledge and practice of infection control, visit Project Firstline and view Salud America!'s infection control content.
The post When To Apply Infection Control Actions appeared first on Salud America.
Recommend

0

recommendations
Published in CDC, Fuerza por la Salud