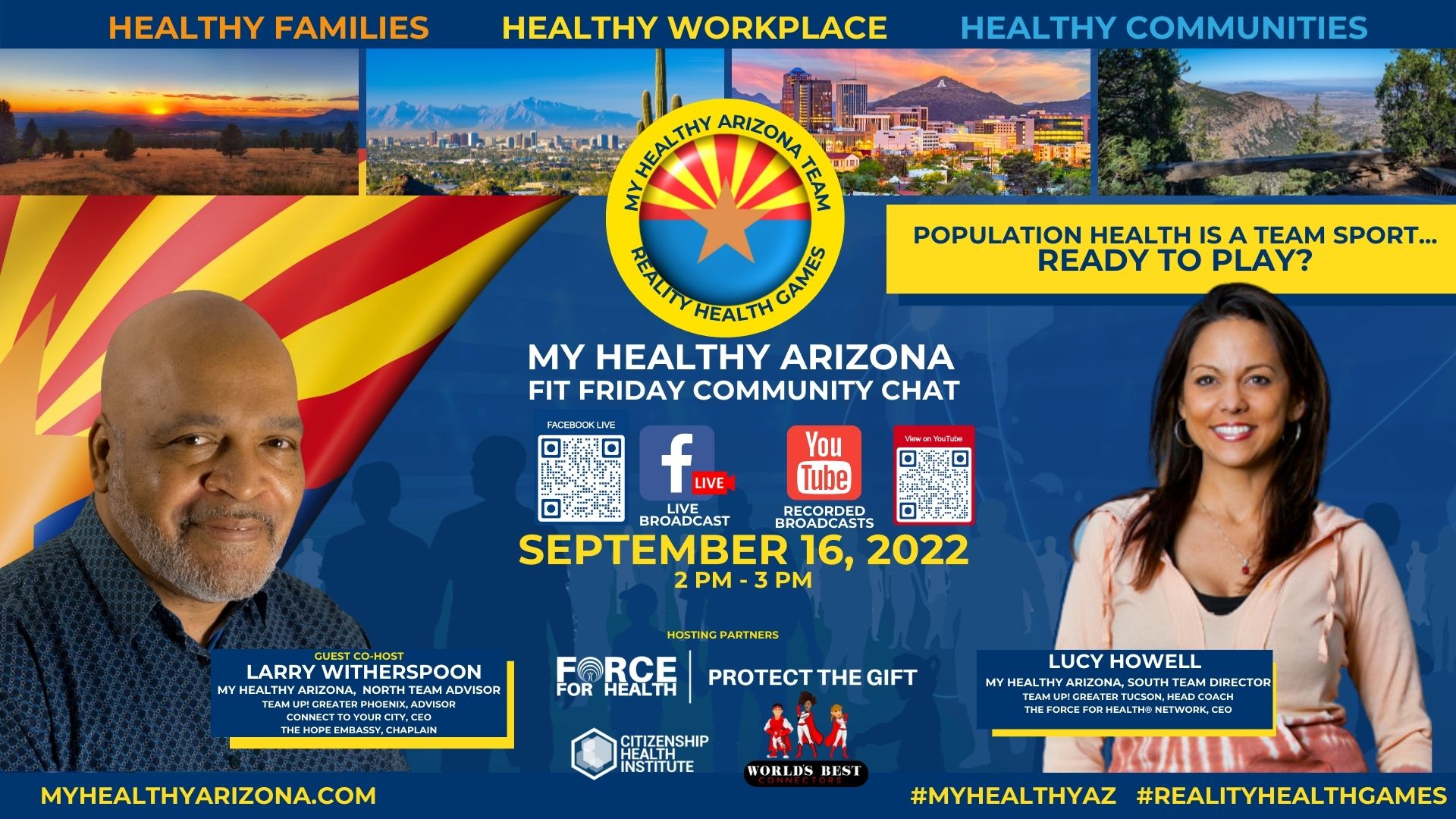 My Healthy Arizona Fit Friday Community Chat S1 E2
This LIVE event has ended, but no worries!
You can watch it here:
We are excited to be launching My Healthy Arizona with our first Fit Friday Community Chat, which will be a new, weekly, interactive broadcast, as we gamify the practice of healthier citizenship.
My Healthy Arizona is a new, mixed-media producer and statewide chamber of health system, powered by The Force for Health, specifically designed to improve health and wealth outcomes and opportunities throughout Arizona.
Join us as we highlight heroes, issues, communities and events that are important to us Arizonans as we support partnerships and collaborative efforts statewide in a fun, healthy virtual challenge to MOVE, LEARN, SERVE and EARN for points and prizes in the upcoming Reality Health Games, which will run from October 1, 2022 – May 31, 2022.
You can get started for free here or upgrade to a 360° Ambassador with unlimited access to our premium tools, like our interactive 360° Human Explorer Library, our Virtual Wellness Club and personalized Health Risks Assessments.   Or, if you are a group leader, join us and get access to your own virtual classroom and group leader tools and reporting capabilities. And finally, if you are a regional leader of a town, city, or county, join us as a Community Director and let's activate your entire community together.  Here is a link to our memberships – https://theforceforhealth.com/memberships.
Co-hosted by Lucy Howell, The Force for Health®, CEO and Lead Coach for My Healthy Arizona's South Region Teams, and Denise Meridith, World's Best Connectors, CEO and Lead Coach for My Healthy Arizona North Region Teams.  Special thanks to Larry Witherspoon, Connect to your City, CEO and senior advisor to The Force for Health®, for sitting in as guest host for Denise.  Other special guests include:
Kairand Bellinger, founder of RAAVolution, a celebration of community featured at the Arizona Bowl every year
Jadyn Butler, former Force for Health® intern; public health senior at the UA College of Public Health and Americorps leader now working with Pima Health Department
For more information, please visit www.MyHealthyArizona.com
Event Attendees
No attendee found! Be the first one to book!
Next Event
Date

Jun 01 - 08 2023

Time

12:00 pm - 12:00 pm