Cancer is a tough, scary, life-threatening journey, especially for women of color.
That is why researchers conduct clinical trials, which are studies to find more effective treatments or achieve a better understand breast cancer and survival among minorities.
But, to make progress, clinical trials need diverse volunteers – like Elsada Wilson.
Wilson joined a clinical trial at Mays Cancer Center at UT Health San Antonio and found hope for herself, her family, and the future.
"I felt like I was helping further studies and knowledge," she said. If it helps me then I'll be able to help my family and help other people that need help. I wanted to help others. I said to myself, 'It might be that small thing that might help another person.' Right?"
Wilson's Breast Cancer Journey
Wilson, originally from Jamaica, spent most of her childhood in Panama with her grandmother.
It was here that Wilson was able to receive an education — studying languages, reading, writing, and other critical subjects.
Wilson said that this time in school prepared her for her eventual journey to the U.S. and her effort to become a nurse working in general medicine.
Unfortunately, cancer would soon impact her on a personal level, not just in her nursing work.
In 2015, Wilson was diagnosed with pulmonary cancer.
Worse, about a year later doctors diagnosed her with an "aggressive form" of breast cancer.
While these diagnoses changed her life immediately, Wilson worked hard to stay optimistic and gracious for the life and advantages she had.
In her life, she traveled throughout the world, living in the Caribbean, Central America.
"I wasn't sad to the point of being depressed because there are young people who are dying,' she said. "I was like, 'Hey what are you complaining about? Look at how many advantages you have had.' Which is something a lot that people [with cancer] don't get, or should I be more specific, certain people don't get. I was glad to still be alive up to that point."
Wilson began radiation after discussing treatment opportunities with her cancer care providers at UT Health San Antonio.
Her doctors eventually recommended surgery to better fight back the cancer. Wilson had some hesitation about undergoing such an extensive procedure.
That's when they suggested Wilson take part in one of their clinical trials for breast cancer.
While she still had to have surgery to help in her treatment, Wilson said she still considered joining the clinical trial as an opportunity to participate in something that would help others — especially as she had seen the harsh toll cancer takes on those who are diagnosed with cancer during her time working as a nurse.
"We use to call it 'the smell of death' in the hospital," she said. "I got called frequently at a cancer floor to work [as a nurse]. So, you want hope, you know, you want to reach for hope. Because cancer, while there are a lot of treatments now, it can almost like a death sentence."
Wilson Chooses a Breast Cancer Clinical Trial
Wilson's positive outlook and desire to help others convinced her to volunteer for a clinical trial at Mays Cancer Center at UT Health San Antonio.
She also knew about the clinical trial process, as her late husband, who passed due to lung cancer, participated in a clinical trial during his cancer journey.
Wilson joined the "Evaluating the Impact of Omega 3 Free Fatty Acid Supplementation on Breast Cancer," clinical trial lead by UT Health San Antonio and the Mays Cancer Center.
Researchers tested the use of fish oils in combating cancer. The study followed cancer patients who took 12 fish oil pills a day and tracked how it impacted their treatment.
Despite it being her first time participating in such a study, Wilson said she wasn't scared due to the autonomy the researchers provided her.
"I wasn't nervous about it," she said. "No. Because I was taking medication. It wasn't one of these studies where they take you off the medication and you don't know who is getting the medication and who is not. I knew exactly what I was getting.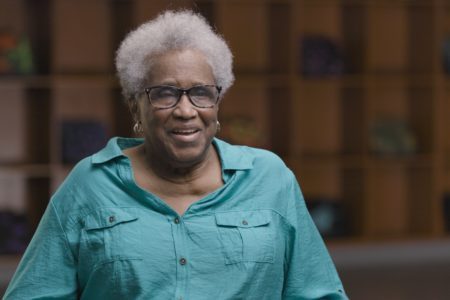 "[Participating] is better than sitting back and not doing anything. You know? Waiting for a miracle cure or something."
Still, she had some initial hesitation because people of color experience a great disparity when it comes to representation clinical trials — something that severely impacts their health.
Latinos, for example, represent 18.5% of the U.S. population but less than 10% in federal clinical trials. Underrepresentation of minorities in clinical trials results in disparities of cancer outcomes and limits generalizability of findings because researchers cannot study how minority patients respond to new treatments. Also, doctors and researchers may have implicit biases against certain patients, which also impacts patient care.
"The color of your skin plays a big part in certain things," Wilson said.
"There is a lot of history of clinical trials that was not conducive to the health of the black person. It might be a different doctor that is in a different culture their belief about dying and death. It could be your color. Every one of us are different you can come from a different environment, different race, different country, different culture and your ideas are different."
Wilson's Experience in a Breast Cancer Clinical Trial
Wilson said the clinical trial went extremely well.
The trial had a huge impact in her journey with breast cancer, which eventually receded. She is thankful for the doctors who helped her through her clinical trial.
"I did have some concerns, but I didn't have the worry because everybody was very good and talked to me like I had some sense," she said.
Now Wilson is leading a full life after cancer.
"I'm doing well — all the time. [Cancer] is what made me really start focusing and paying attention. I love the exercise. I love to do things."
How Can You Get Involved in a Cancer Clinical Trial
You can be like Elsada Wilson, who says that the knowledge gleaned from clinical trials makes all the difference in the world.
"The information is hope and if we're going to find a cure, somebody has to try," she said. "We can't just do it on rats and other animals. Humanity is unique. And so as long as it does no harm and is beneficial for the good, why not participate?"
We need Latino volunteers for clinical trials because it helps researchers create treatments and solutions tailored for this population.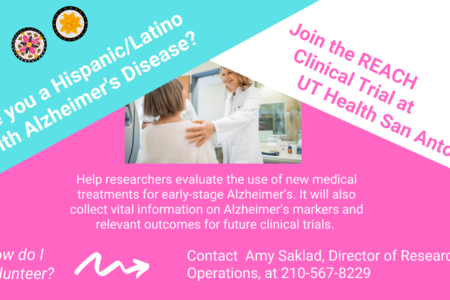 Dr. Amelie Ramirez, leader of Salud America! at UT Health San Antonio, is creating new ways to encourage Latinos to volunteer for cancer and Alzheimer's clinical trials. This work is supported by a grant from Genentech, a member of the Roche Group.
"Latinos in clinical trials are not only helping themselves, they're building a future with better treatments that can help their families and communities in the future," Ramirez said.
If you're in San Antonio, volunteer for:
A cancer clinical trial at the Mays Cancer Center at UT Health San Antonio: https://salud.to/maystrials
An Alzheimer's disease clinical trial at the Glenn Biggs Institute for Alzheimer's and Neurodegenerative Diseases at UT Health San Antonio: https://salud.to/biggstrials
You can also use the National Cancer Institute's online search tool or call 1-800-4-CANCER to find a cancer clinical trial in your area!
The post Elsada Wilson: Amid Breast Cancer, Finding Hope Through a Clinical Trial appeared first on Salud America.
Recommend

0

recommendations
Published in Fuerza por la Salud