The COVID-19 pandemic has dramatically impacted Latinos.
Latinos have suffered a disproportionate burden of coronavirus cases, hospitalizations, and deaths (especially among young people).
But why has media coverage of Latinos and COVID-19 remained lower than other groups, barely making up 2% of all COVID-19 news?
A data search conducted by the Berkeley Media Studies Group (BMSG) indicates that Latinos have not been covered by news media in COVID-19 coverage to the extent that other populations like Black people, Native Americans, and women have been covered.
Let's take a look at what the data shows and the implications that a lack of media coverage has on Latinos.
What Does the Data Show?
The U.S. media produced a whopping 2,073,217 stories on either "covid," "coronavirus," or "pandemic" between Jan. 1, 2020, and May 31, 2021, according to a data search of US national news media on Media Cloud, an open source platform for media analytics, by Sarah Perez-Sanz of BMSG.
The peak was on March 31, 2020, with 237,221 news stories in one day.

However, when searching for COVID-19 stories (using search terms "covid," "coronavirus," or "pandemic") that relate to Latinos (using search terms "latino" or "Hispanic" or "latinx"), Perez-Sanz found only 38,652 stories.
The peak was on Sept. 27, 2020 with 3,577 stories.

Additionally, the percentage of stories about Latinos and COVID-19 can be calculated to less than 2% of all media coverage.
In contrast, there was substantially more media coverage of COVID-19 and other groups, like Black people and women.
For example, when analyzing COVID-19 news coverage of Black people (using search terms "Black" or "African American"), Perez-Sanz found 198,209 stories.
The peak was on May 30, 2020 with 25,566 stories.

Comparing data to COVID-19 coverage of women also shows a large contrast.
281,251 stories contained women-related search terms ("women," "mom," "mother," "woman," or "maternal"), with the peak being on March 31, 2020 with 27,307 stories.

The lack of coverage on Latinos is also evident through the graph below on volume of news.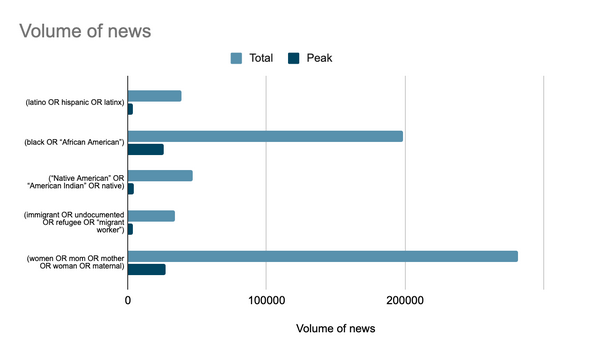 Implications of Low Media Coverage
Media coverage is an important way to raise awareness of a particular issue. A lack of media coverage can have wide-ranging implications.
When it comes to Latinos and COVID-19, media coverage can help educate people on health equity and issues that affect Latinos.
Unfortunately, many Latinos (55%) feel that the news media misunderstands them.
"Hispanic Americans are somewhat more likely than the other two groups to think that their personal interests are what is misunderstood most (26%, compared with 16% of black and 17% of white adults)," according to PEW Research.
Additionally, much of the media coverage of Latinos is often negative and only focused on immigration issues instead of other issues Latinos experience.
A 2019 BMSG report found that news coverage of immigrants in California often used dehumanizing terms and didn't highlight public health and well-being issues at all.
"The hostile political climate facing immigrants in many parts of California means that communicating strategically and centering equity in those narratives is both challenging and urgent," according to BMSG.
When Latinos are covered less frequently in the news, it can create a warped image of Latinos in the public eye. This can lead to implicit bias and discrimination by news watchers.
More coverage on the disparities that Latinos are facing throughout the COVID-19 pandemic will help promote health equity.
How Can We Help Latinos Fight COVID-19?
With a lack of news media coverage on Latinos and COVID-19, Latinos went elsewhere for information.
In fact, Latinos were 57% more likely than their peers to use social media channels as a primary source of coronavirus information, according to an industry report.
That opened the flood gates to reach Latinos with COVID-19 information in real time, which was an opportunity seized by some Latino health groups like Salud America! to share equitable preventive health information and vaccine confidence.
But social media also proved fertile ground to breed vaccine hesitancy.
Certain social media influencers have promulgated conspiracy theories, wild exaggerations of potential side effects, and other false claims that are keeping some Latinos from getting vaccinated. In fact, all 44 states that have reported demographics of COVID-19 vaccine distribution show that Latinos are getting vaccinated at a lower percentage than their state's Latino population percentage.
We can do our part to help Latinos and fight the spread of COVID-19 by sharing resources to educate our communities and learn the facts about the pandemic.
Make sure you know misinformation when you see it and help educate others about the facts.
If you or anyone you know is still hesitant about getting vaccinated, read these stories from real Latinos who had a #VaccineChangeofHeart and decided to get the vaccine after initially being against it.
You can also check out the "Juntos, We Can Stop COVID-19" digital communication campaign from Salud America! at UT Health San Antonio. This campaign was made to help Latino families and workers take action to slow the spread of COVID-19.
The #JuntosStopCovid campaign features culturally relevant fact sheets, infographics, and video role model stories to encourage Latinos to change their public health behaviors.
Share the campaign with your friends, family, and colleagues!
share the campaign in ENGLISH!
share the campaign in SPANISH!
The post Data: Latinos Make Up Less than 2% of COVID-19 Media Coverage appeared first on Salud America.
Recommend

0

recommendations
Published in Fuerza por la Salud