Executive Birdseye View of the
Force for Health® Network and Systems
For Internal Review Only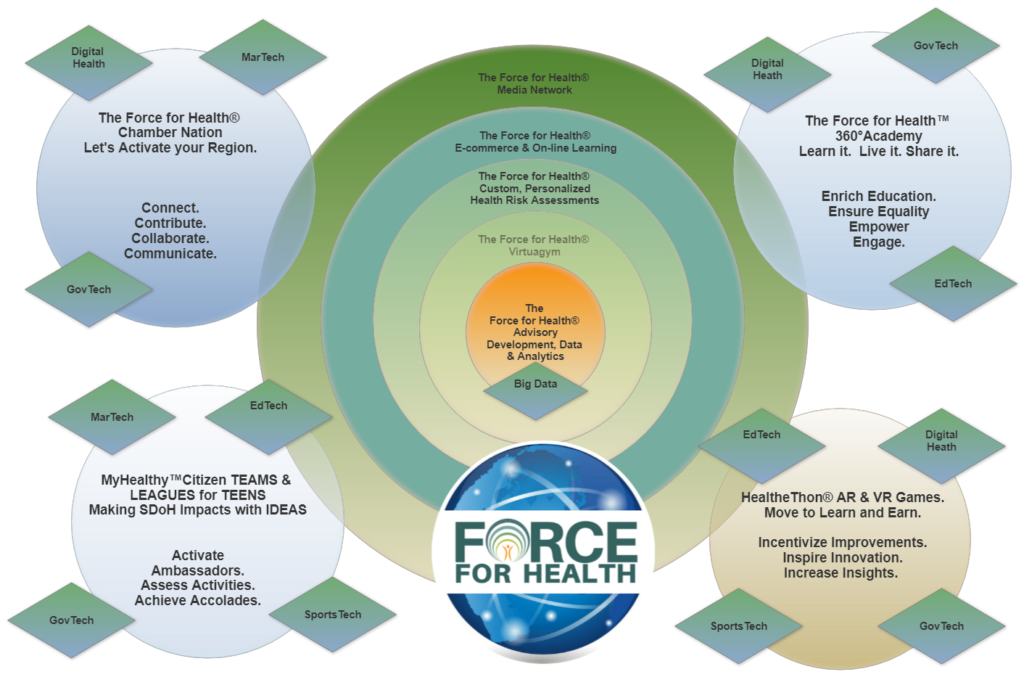 Chamber Nation – This is an exclusive re-seller situation with Chamber Nation, and CEO/Founder, Richard Scully.  They serve as a one stop shop for website, app and portal production and servicing.
https://www.chambernation.com/
1 of 24
Virtuagym – This is a reseller/white label relationship with this company based out of Amsterdam, with lots of open API access -https://github.com/virtuagym/Virtuagym-Public-API/wiki
2 of 24
Infusionsoft is one of 2 possible "all-in" databases that we have turned on, but not yet activated too much yet.  It is the platform that we integrated the MESH Sim3 project, but does require Memberium as it's Membership Plug-in, and the site is still using Member Press.
3 of 24
Shopify is used for product transaction, and is integrated with Perkville, our Loyalty and Rewards Program
4 of 24
Healthethon® is an app and CMS system co-developed by Rohit, that is designed to count steps, and host videos, assigning points to steps and videos watched. 
5 of 24
My Healthy Citizen™.com – This is a site that we own and manage to co-develop funds with Gina Weisblat's CHANGE 5013c, where we are also co-developing the CHW programs, and TEAMS and LEAGUES.  A portion of profit from this unit will support CHANGE
6 of 24
the Force for Health Academy – This is an on-line, 360° Virtual Academy 
7 of 24
Perkville is a loyalty and rewards web app that intregrates with VirtuaGym and Shopify.  CEO very eager to discuss how he can help us with better integrations, and can leverage the ACA carrot, as well
8 of 24
LeadDynno is a multi tier affiliate reseller tool which will host our Force for Health® Member Affiliate Fundraising campaigns.
Need to double check MHG Affiliate status, but should be on.
9 of 24
Force for Health®GO is an app co-developed with Spinar,
10 of 24
My Healthy Leagues.com – This is a site that we own an manage, My Healthy Leagues, that has a SportsPress Plug-in that helps present like a sports channel.  The "stats" should be intregrated with HealtheThon, Force for Health®GO and our LMS Academy
11 of 24
Hubspot is one universal database that we maintain that can be used for content marketing, lead generation and database enrichment
12 of 24
Salesforce – We also maintain a free version with up to 10 seats originally started under the FFHF.  This will not be a free tool as a for profit, but can be used in non-profit space.  Lucy used Chat fro past My Girl Power Clubs
13 of 24
Chamber Nation Portal – At the core could/should be a connected network of Force for Health® Chambers, that all roll into one system, that supports the other units.  
CEO/Founder, Richard Scully, is/could be aprt of the advisory/strategic team
See https://www.chambernation.com/ for more detail.
14 of 24
Personalized HRA's by GHM – This is a reseller product from Global Health Metrics, where we currently offer for $4.99 at $1 cost, which can scale up or down, be used as a fundraiser, and needs to be integrated with Virtuagym
15 of 24
WordPress is used for main site traffic and attraction on network of sites
16 of 24
Memberium is a content protection based membership plug in that fully integrates with Infusionsoft 
17 of 24
MemberPress is the WP PlugIn that currently manages the membership program and content protection on TheForceforHealth.com and MyHealthyCitizen.com 
18 of 24
Student Health Force is an outdated site, that currently hosts most of the state standard curriculum for PA, which we are holding onto for now.
19 of 24
Facebook, Twitter, Instagram are in the early launch phase.
Vimeo hosts all videos.
20 of 24
Amazon Web Services – This account is meant to host content for our apps and Healthethon site
21 of 24
Force for Health® POI CSM hosts our Force for Health®GO POI platform.  This needs to be integrated with Infusionsoft/LMS and/or Perkville and/or Virtuagym
22 of 24
Rackspace is currently the hosting site for Innerlink and Student HealthForce
23 of 24
WP Engine hosts all of our active sites
24 of 24